SCI Publications
2019

T. Athawale, C. R. Johnson. "Probabilistic Asymptotic Decider for Topological Ambiguity Resolution in Level-Set Extraction for Uncertain 2D Data," In IEEE Transactions on Visualization and Computer Graphics, Vol. 25, No. 1, IEEE, pp. 1163-1172. Jan, 2019.
DOI: 10.1109/TVCG.2018.2864505
We present a framework for the analysis of uncertainty in isocontour extraction. The marching squares (MS) algorithm for isocontour reconstruction generates a linear topology that is consistent with hyperbolic curves of a piecewise bilinear interpolation. The saddle points of the bilinear interpolant cause topological ambiguity in isocontour extraction. The midpoint decider and the asymptotic decider are well-known mathematical techniques for resolving topological ambiguities. The latter technique investigates the data values at the cell saddle points for ambiguity resolution. The uncertainty in data, however, leads to uncertainty in underlying bilinear interpolation functions for the MS algorithm, and hence, their saddle points. In our work, we study the behavior of the asymptotic decider when data at grid vertices is uncertain. First, we derive closed-form distributions characterizing variations in the saddle point values for uncertain bilinear interpolants. The derivation assumes uniform and nonparametric noise models, and it exploits the concept of ratio distribution for analytic formulations. Next, the probabilistic asymptotic decider is devised for ambiguity resolution in uncertain data using distributions of the saddle point values derived in the first step. Finally, the confidence in probabilistic topological decisions is visualized using a colormapping technique. We demonstrate the higher accuracy and stability of the probabilistic asymptotic decider in uncertain data with regard to existing decision frameworks, such as deciders in the mean field and the probabilistic midpoint decider, through the isocontour visualization of synthetic and real datasets.
---

F. Wang, I. Wald, Q. Wu, W. Usher, C. R. Johnson. "CPU Isosurface Ray Tracing of Adaptive Mesh Refinement Data," In IEEE Transactions on Visualization and Computer Graphics, Vol. 25, No. 1, IEEE, pp. 1142-1151. Jan, 2019.
DOI: 10.1109/TVCG.2018.2864850
Adaptive mesh refinement (AMR) is a key technology for large-scale simulations that allows for adaptively changing the simulation mesh resolution, resulting in significant computational and storage savings. However, visualizing such AMR data poses a significant challenge due to the difficulties introduced by the hierarchical representation when reconstructing continuous field values. In this paper, we detail a comprehensive solution for interactive isosurface rendering of block-structured AMR data. We contribute a novel reconstruction strategy—the octant method—which is continuous, adaptive and simple to implement. Furthermore, we present a generally applicable hybrid implicit isosurface ray-tracing method, which provides better rendering quality and performance than the built-in sampling-based approach in OSPRay. Finally, we integrate our octant method and hybrid isosurface geometry into OSPRay as a module, providing the ability to create high-quality interactive visualizations combining volume and isosurface representations of BS-AMR data. We evaluate the rendering performance, memory consumption and quality of our method on two gigascale block-structured AMR datasets.
---

A. Warner, J. Tate, B. Burton,, C.R. Johnson. "A High-Resolution Head and Brain Computer Model for Forward and Inverse EEG Simulation," In bioRxiv, Cold Spring Harbor Laboratory, Feb, 2019.
DOI: 10.1101/552190
To conduct computational forward and inverse EEG studies of brain electrical activity, researchers must construct realistic head and brain computer models, which is both challenging and time consuming. The availability of realistic head models and corresponding imaging data is limited in terms of imaging modalities and patient diversity. In this paper, we describe a detailed head modeling pipeline and provide a high-resolution, multimodal, open-source, female head and brain model. The modeling pipeline specifically outlines image acquisition, preprocessing, registration, and segmentation; three-dimensional tetrahedral mesh generation; finite element EEG simulations; and visualization of the model and simulation results. The dataset includes both functional and structural images and EEG recordings from two high-resolution electrode configurations. The intermediate results and software components are also included in the dataset to facilitate modifications to the pipeline. This project will contribute to neuroscience research by providing a high-quality dataset that can be used for a variety of applications and a computational pipeline that may help researchers construct new head models more efficiently.
---
2018

T. M. Athawale, K. A. Johnson, C. R. Butson, C. R. Johnson. "A statistical framework for quantification and visualisation of positional uncertainty in deep brain stimulation electrodes," In Computer Methods in Biomechanics and Biomedical Engineering: Imaging & Visualization, Taylor & Francis, pp. 1-12. 2018.
DOI: doi:10.1080/21681163.2018.1523750
Deep brain stimulation (DBS) is an established therapy for treating patients with movement disorders such as Parkinson's disease. Patient-specific computational modelling and visualisation have been shown to play a key role in surgical and therapeutic decisions for DBS. The computational models use brain imaging, such as magnetic resonance (MR) and computed tomography (CT), to determine the DBS electrode positions within the patient's head. The finite resolution of brain imaging, however, introduces uncertainty in electrode positions. The DBS stimulation settings for optimal patient response are sensitive to the relative positioning of DBS electrodes to a specific neural substrate (white/grey matter). In our contribution, we study positional uncertainty in the DBS electrodes for imaging with finite resolution. In a three-step approach, we first derive a closed-form mathematical model characterising the geometry of the DBS electrodes. Second, we devise a statistical framework for quantifying the uncertainty in the positional attributes of the DBS electrodes, namely the direction of longitudinal axis and the contact-centre positions at subvoxel levels. The statistical framework leverages the analytical model derived in step one and a Bayesian probabilistic model for uncertainty quantification. Finally, the uncertainty in contact-centre positions is interactively visualised through volume rendering and isosurfacing techniques. We demonstrate the efficacy of our contribution through experiments on synthetic and real datasets. We show that the spatial variations in true electrode positions are significant for finite resolution imaging, and interactive visualisation can be instrumental in exploring probabilistic positional variations in the DBS lead.
---

F. Wang, W. Li, S. Wang, C.R. Johnson. "Association Rules-Based Multivariate Analysis and Visualization of Spatiotemporal Climate Data," In ISPRS International Journal of Geo-Information, Vol. 7, No. 7, MDPI AG, pp. 266. July, 2018.
DOI: 10.3390/ijgi7070266
Understanding atmospheric phenomena involves analysis of large-scale spatiotemporal multivariate data. The complexity and heterogeneity of such data pose a significant challenge in discovering and understanding the association between multiple climate variables. To tackle this challenge, we present an interactive heuristic visualization system that supports climate scientists and the public in their exploration and analysis of atmospheric phenomena of interest. Three techniques are introduced: (1) web-based spatiotemporal climate data visualization; (2) multiview and multivariate scientific data analysis; and (3) data mining-enabled visual analytics. The Arctic System Reanalysis (ASR) data are used to demonstrate and validate the effectiveness and usefulness of our method through a case study of "The Great Arctic Cyclone of 2012". The results show that different variables have strong associations near the polar cyclone area. This work also provides techniques for identifying multivariate correlation and for better understanding the driving factors of climate phenomena.
---
2017

M. Chen, G. Grinstein, C. R. Johnson, J. Kennedy, M. Tory. "Pathways for Theoretical Advances in Visualization," In IEEE Computer Graphics and Applications, IEEE, pp. 103--112. July, 2017.
More than a decade ago, Chris Johnson proposed the "Theory of Visualization" as one of the top research problems in visualization. Since then, there have been several theory-focused events, including three workshops and three panels at IEEE Visualization (VIS) Conferences. Together, these events have produced a set of convincing arguments.
---

M. Kern, A. Lex, N. Gehlenborg, C. R. Johnson. "Interactive Visual Exploration And Refinement Of Cluster Assignments," In BMC Bioinformatics, Cold Spring Harbor Laboratory, April, 2017.
DOI: 10.1101/123844
Background:
With ever-increasing amounts of data produced in biology research, scientists are in need of efficient data analysis methods. Cluster analysis, combined with visualization of the results, is one such method that can be used to make sense of large data volumes. At the same time, cluster analysis is known to be imperfect and depends on the choice of algorithms, parameters, and distance measures. Most clustering algorithms don't properly account for ambiguity in the source data, as records are often assigned to discrete clusters, even if an assignment is unclear. While there are metrics and visualization techniques that allow analysts to compare clusterings or to judge cluster quality, there is no comprehensive method that allows analysts to evaluate, compare, and refine cluster assignments based on the source data, derived scores, and contextual data.

Results:
In this paper, we introduce a method that explicitly visualizes the quality of cluster assignments, allows comparisons of clustering results and enables analysts to manually curate and refine cluster assignments. Our methods are applicable to matrix data clustered with partitional, hierarchical, and fuzzy clustering algorithms. Furthermore, we enable analysts to explore clustering results in context of other data, for example, to observe whether a clustering of genomic data results in a meaningful differentiation in phenotypes.

Conclusions:
Our methods are integrated into Caleydo StratomeX, a popular, web-based, disease subtype analysis tool. We show in a usage scenario that our approach can reveal ambiguities in cluster assignments and produce improved clusterings that better differentiate genotypes and phenotypes.
---
2016

B. Hollister, G. Duffley, C. Butson,, C.R. Johnson. "Visualization for Understanding Uncertainty in Activation Volumes for Deep Brain Stimulation," In Eurographics Conference on Visualization, Edited by K.L. Ma G. Santucci, and J. van Wijk, 2016.
We have created the Neurostimulation Uncertainty Viewer (nuView or nView) tool for exploring data arising from deep brain stimulation (DBS). Simulated volume of tissue activated (VTA), using clinical electrode placements, are recorded along withpatient outcomes in the Unified Parkinson's disease rating scale (UPDRS). The data is volumetric and sparse, with multi-value patient results for each activated voxel in the simulation. nView provides a collection of visual methods to explore the activated tissue to enhance understanding of electrode usage for improved therapy with DBS.
---

M. Larsen, K. Moreland, C.R. Johnson,, H. Childs. "Optimizing Multi-Image Sort-Last Parallel Rendering," In Symposium on Large Data Analysis and Visualization, IEEE, 2016.
Sort-last parallel rendering can be improved by considering the rendering of multiple images at a time. Most parallel rendering algorithms consider the generation of only a single image. This makes sense when performing interactive rendering where the parameters of each rendering are not known until the previous rendering completes. However, in situ visualization often generates multiple images that do not need to be created sequentially. In this paper we present a simple and effective approach to improving parallel image generation throughput by amortizing the load and overhead among multiple image renders. Additionally, we validate our approach by conducting a performance study exploring the achievable speed-ups in a variety of image-based in situ use cases and rendering workloads. On average, our approach shows a 1.5 to 3.7 fold improvement in performance, and in some cases, shows a 10 fold improvement.
---

P. Rosen, B. Burton, K. Potter, C.R. Johnson. "muView: A Visual Analysis System for Exploring Uncertainty in Myocardial Ischemia Simulations," In Visualization in Medicine and Life Sciences III, Springer Nature, pp. 49--69. 2016.
DOI: 10.1007/978-3-319-24523-2_3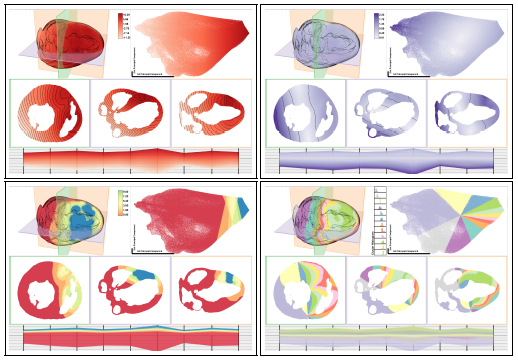 In this paper we describe the Myocardial Uncertainty Viewer (muView or µView) system for exploring data stemming from the simulation of cardiac ischemia. The simulation uses a collection of conductivity values to understand how ischemic regions effect the undamaged anisotropic heart tissue. The data resulting from the simulation is multi-valued and volumetric, and thus, for every data point, we have a collection of samples describing cardiac electrical properties. µView combines a suite of visual analysis methods to explore the area surrounding the ischemic zone and identify how perturbations of variables change the propagation of their effects. In addition to presenting a collection of visualization techniques, which individually highlight different aspects of the data, the coordinated view system forms a cohesive environment for exploring the simulations.We also discuss the findings of our study, which are helping to steer further development of the simulation and strengthening our collaboration with the biomedical engineers attempting to understand the phenomenon.
---

X. Tong, J. Edwards, C. Chen, H. Shen, C. R. Johnson, P. Wong. "View-Dependent Streamline Deformation and Exploration," In Transactions on Visualization and Computer Graphics, Vol. 22, No. 7, IEEE, pp. 1788--1801. July, 2016.
ISSN: 1077-2626
DOI: 10.1109/tvcg.2015.2502583
Occlusion presents a major challenge in visualizing 3D flow and tensor fields using streamlines. Displaying too many streamlines creates a dense visualization filled with occluded structures, but displaying too few streams risks losing important features. We propose a new streamline exploration approach by visually manipulating the cluttered streamlines by pulling visible layers apart and revealing the hidden structures underneath. This paper presents a customized view-dependent deformation algorithm and an interactive visualization tool to minimize visual clutter in 3D vector and tensor fields. The algorithm is able to maintain the overall integrity of the fields and expose previously hidden structures. Our system supports both mouse and direct-touch interactions to manipulate the viewing perspectives and visualize the streamlines in depth. By using a lens metaphor of different shapes to select the transition zone of the targeted area interactively, the users can move their focus and examine the vector or tensor field freely.
Keywords: Context;Deformable models;Lenses;Shape;Streaming media;Three-dimensional displays;Visualization;Flow visualization;deformation;focus+context;occlusion;streamline;white matter tracts
---
2015

C.R. Johnson, K. Potter. "Visualization," In The Princeton Companion to Applied Mathematics, Edited by Nicholas J. Higham, Princeton University Press, pp. 843-846. September, 2015.
ISBN: 9780691150390
---

H. De Sterck, C.R. Johnson. "Data Science: What Is It and How Is It Taught?," In SIAM News, SIAM, July, 2015.
---

C.R. Johnson. "Computational Methods and Software for Bioelectric Field Problems," In Biomedical Engineering Handbook, 4, Vol. 1, Ch. 43, Edited by J.D. Bronzino and D.R. Peterson, CRC Press, pp. 1--28. 2015.
Computer modeling and simulation continue to become more important in the field of bioengineering. The reasons for this growing importance are manyfold. First, mathematical modeling has been shown to be a substantial tool for the investigation of complex biophysical phenomena. Second, since the level of complexity one can model parallels the existing hardware configurations, advances in computer architecture have made it feasible to apply the computational paradigm to complex biophysical systems. Hence, while biological complexity continues to outstrip the capabilities of even the largest computational systems, the computational methodology has taken hold in bioengineering and has been used successfully to suggest physiologically and clinically important scenarios and results.

This chapter provides an overview of numerical techniques that can be applied to a class of bioelectric field problems. Bioelectric field problems are found in a wide variety of biomedical applications, which range from single cells, to organs, up to models that incorporate partial to full human structures. We describe some general modeling techniques that will be applicable, in part, to all the aforementioned applications. We focus our study on a class of bioelectric volume conductor problems that arise in electrocardiography (ECG) and electroencephalography (EEG).

We begin by stating the mathematical formulation for a bioelectric volume conductor, continue by describing the model construction process, and follow with sections on numerical solutions and computational considerations. We continue with a section on error analysis coupled with a brief introduction to adaptive methods. We conclude with a section on software.
---

C.R. Johnson. "Visualization," In Encyclopedia of Applied and Computational Mathematics, Edited by Björn Engquist, Springer, pp. 1537-1546. 2015.
ISBN: 978-3-540-70528-4
DOI: 10.1007/978-3-540-70529-1_368
---
2014

G.P. Bonneau, H.C. Hege, C.R. Johnson, M.M. Oliveira, K. Potter, P. Rheingans, T. Schultz. "Overview and State-of-the-Art of Uncertainty Visualization," In Scientific Visualization: Uncertainty, Multifield, Biomedical, and Scalable Visualization, Edited by M. Chen and H. Hagen and C.D. Hansen and C.R. Johnson and A. Kauffman, Springer-Verlag, pp. 3--27. 2014.
ISBN: 978-1-4471-6496-8
ISSN: 1612-3786
DOI: 10.1007/978-1-4471-6497-5_1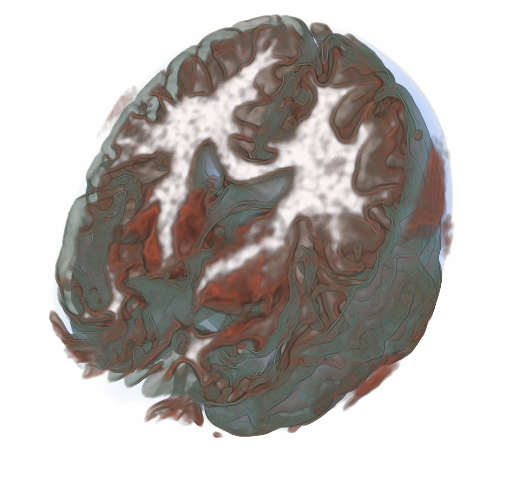 The goal of visualization is to effectively and accurately communicate data. Visualization research has often overlooked the errors and uncertainty which accompany the scientific process and describe key characteristics used to fully understand the data. The lack of these representations can be attributed, in part, to the inherent difficulty in defining, characterizing, and controlling this uncertainty, and in part, to the difficulty in including additional visual metaphors in a well designed, potent display. However, the exclusion of this information cripples the use of visualization as a decision making tool due to the fact that the display is no longer a true representation of the data. This systematic omission of uncertainty commands fundamental research within the visualization community to address, integrate, and expect uncertainty information. In this chapter, we outline sources and models of uncertainty, give an overview of the state-of-the-art, provide general guidelines, outline small exemplary applications, and finally, discuss open problems in uncertainty visualization.
---

B. Chapman, H. Calandra, S. Crivelli, J. Dongarra, J. Hittinger, C.R. Johnson, S.A. Lathrop, V. Sarkar, E. Stahlberg, J.S. Vetter, D. Williams. "ASCAC Workforce Subcommittee Letter," Note: Office of Scientific and Technical Information, DOE ASCAC Committee Report, July, 2014.
DOI: 10.2172/1222711
Simulation and computing are essential to much of the research conducted at the DOE national laboratories. Experts in the ASCR-relevant Computing Sciences, which encompass a range of disciplines including Computer Science, Applied Mathematics, Statistics and domain sciences, are an essential element of the workforce in nearly all of the DOE national laboratories. This report seeks to identify the gaps and challenges facing DOE with respect to this workforce.

The DOE laboratories provided the committee with information on disciplines in which they experienced workforce gaps. For the larger laboratories, the majority of the cited workforce gaps were in the Computing Sciences. Since this category spans multiple disciplines, it was difficult to obtain comprehensive information on workforce gaps in the available timeframe. Nevertheless, five multi-purpose laboratories provided additional relevant data on recent hiring and retention.

Data on academic coursework was reviewed. Studies on multidisciplinary education in Computational Science and Engineering (CS&E) revealed that, while the number of CS&E courses offered is growing, the overall availability is low and the coursework fails to provide skills for applying CS&E to real-world applications. The number of graduates in different fields within Computer Science (CS) and Computer Engineering (CE) was also reviewed, which confirmed that specialization in DOE areas of interest is less common than in many other areas.

Projections of industry needs and employment figures (mostly for CS and CE) were examined. They indicate a high and increasing demand for graduates in all areas of computing, with little unemployment. This situation will be exacerbated by large numbers of retirees in the coming decade. Further, relatively few US students study toward higher degrees in the Computing Sciences, and those who do are predominantly white and male. As a result of this demographic imbalance, foreign nationals are an increasing fraction of the graduate population and we fail to benefit from including women and underrepresented minorities.

There is already a program that supports graduate education that is tailored to the needs of the DOE laboratories. The Computational Science Graduate Fellowship (CSGF) enables graduates to pursue a multidisciplinary program of education that is coupled with practical experience at the laboratories. It has been demonstrated to be highly effective in both its educational goals and in its ability to supply talent to the laboratories. However, its current size and scope are too limited to solve the workforce problems identified. The committee felt strongly that this proven program should be extended to increase its ability to support the DOE mission.

Since no single program can eliminate the workforce gap, existing recruitment efforts by the laboratories were examined. It was found that the laboratories already make considerable effort to recruit in this area. Although some challenges, such as the inability to match industry compensation, cannot be directly addressed, DOE could develop a roadmap to increase the impact of individual laboratory efforts, to enhance the suitability of existing educational opportunities, to increase the attractiveness of the laboratories, and to attract and sustain a full spectrum of human talent, which includes women and underrepresented minorities.
---

M.G. Genton, C.R. Johnson, K. Potter, G. Stenchikov, Y. Sun. "Surface boxplots," In Stat Journal, Vol. 3, No. 1, pp. 1--11. 2014.
In this paper, we introduce a surface boxplot as a tool for visualization and exploratory analysis of samples of images. First, we use the notion of volume depth to order the images viewed as surfaces. In particular, we define the median image. We use an exact and fast algorithm for the ranking of the images. This allows us to detect potential outlying images that often contain interesting features not present in most of the images. Second, we build a graphical tool to visualize the surface boxplot and its various characteristics. A graph and histogram of the volume depth values allow us to identify images of interest. The code is available in the supporting information of this paper. We apply our surface boxplot to a sample of brain images and to a sample of climate model outputs.
---

Y. Gur, C.R. Johnson. "Generalized HARDI Invariants by Method of Tensor Contraction," In Proceedings of the 2014 IEEE International Symposium on Biomedical Imaging (ISBI), pp. 718--721. April, 2014.
We propose a 3D object recognition technique to construct rotation invariant feature vectors for high angular resolution diffusion imaging (HARDI). This method uses the spherical harmonics (SH) expansion and is based on generating rank-1 contravariant tensors using the SH coefficients, and contracting them with covariant tensors to obtain invariants. The proposed technique enables the systematic construction of invariants for SH expansions of any order using simple mathematical operations. In addition, it allows construction of a large set of invariants, even for low order expansions, thus providing rich feature vectors for image analysis tasks such as classification and segmentation. In this paper, we use this technique to construct feature vectors for eighth-order fiber orientation distributions (FODs) reconstructed using constrained spherical deconvolution (CSD). Using simulated and in vivo brain data, we show that these invariants are robust to noise, enable voxel-wise classification, and capture meaningful information on the underlying white matter structure.
Keywords: Diffusion MRI, HARDI, invariants
---

C.D. Hansen, M. Chen, C.R. Johnson, A.E. Kaufman, H. Hagen (Eds.). "Scientific Visualization: Uncertainty, Multifield, Biomedical, and Scalable Visualization," Mathematics and Visualization, Springer, 2014.
ISBN: 978-1-4471-6496-8
---