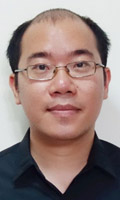 Duong Hoang - Graduate Student Research Assistant
WEB Lab 3720
phone (801) 585-1874
fax (801) 585-6513
This email address is being protected from spambots. You need JavaScript enabled to view it.
supervisor Valerio Pascucci
Background
I'm a first-year PhD student in Computer Science at the University of Utah. Before joining Utah, I took my Bachelor and Masters degrees in Computer Science from the National University of Singapore.
Current Responsibilities
As a member of Professor Pascucci's CEDMAV group, I'm working on improving the rendering capabilities of ViSUS - one of the group's visualization tools.
Research Interests
I'm interested in Computer Graphics and its related fields (Visualization, Animation, Computer Vision).