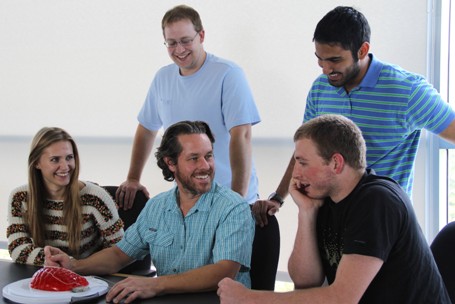 Over $10 Million in grants from three federal organizations have been awarded to Christopher R. Butson, PhD, associate professor of bioengineering and a member of the Scientific Computing and Imaging Institute (SCI). He also holds positions in the departments of neurology and neurosurgery and is the Director of Neuromodulation Research for the Department of Neurosurgery and works with teams of researchers at the University of Utah and other institutions in the U.S. and Germany.
The National Institutes of Health (NIH) has awarded funds for a clinical study on central thalamic deep brain stimulation for traumatic brain injury. This clinical study is led by Butson and other teams including Nicholas Schiff M.D. at Cornell University, Joseph Giacino Ph.D. at the Spaulding Rehabilitation Hospital in Boston, Jaimie Henderson M.D. at Stanford and Andre Machado M.D. at the Cleveland Clinic. These teams are working on a feasibility study to support a next generation device to provide therapy for the survivors of severe to moderate traumatic brain injury.
Another grant supports work on a Mobile Decision Support System for Nurse Management of Neuromodulation Therapy. It was awarded to Butson and Michael S. Okun M.D. at the University of Florida. This work will test the use of a clinical support tool in post-operative management of patients with Parkinson's disease. The goal is to reduce the amount of time required to choose settings for a patient's treatment, which will reduce the burden on patients and caregivers. The proposed approach provides an iPad-based clinical app to enable nurses and physicians to quickly focus on stimulation settings that are likely to be most effective.
The National Science Foundation (NSF) has awarded funds for work on Remote Management of Deep Brain Stimulation (DBS) Patients Using the Utah Telehealth Network. The grant goes to Butson and Dr. Lauren Schrock in the department of Neurology at the University of Utah, Dr. Paul House of Neurosurgery also at the U and Dr. Jens Krüger, chair of the High Performance Computing group at the University of Duisburg-Essen. Recognizing that it is not always feasible for patients who have had DBS devices implanted to travel long distances for postoperative management following surgery, the work supports the establishment of a new model where patients are managed by community neurologists or family practice physicians who are supported remotely. The team will test the use of an app-based platform that provides patient-specific treatment advice.
For more about Dr. Butson see:
https://www.sci.utah.edu/people/butson.html