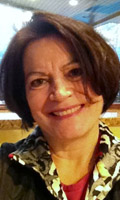 Magali Coburn - Manager
SCI Payroll
Human Resources
Visas
Post-awards Management
WEB 3662
phone (801) 587-9984
fax (801) 585-6513
This email address is being protected from spambots. You need JavaScript enabled to view it.
supervisor Dr. Manish Parashar
Background
I moved to the U.S. from France in 1996 and started working for the State of Utah at Trust Lands Administration, as Information Systems Support Specialist; and as well for the Granite District as French language Instructor.
Before joining the SCI Institute in 2007, I spent 10 years working at the informative and educational stations - KUER-FM90 and KUED-Channel 7, departments of the University of Utah.
I received my Accounting Degree in 1982 from the Department of Education and Science of Paris, France.
I love reading, and am especially passionate about French poetry and literature.
Current Responsibilities
I am responsible for payroll, hiring process, human resource functions, visa applications, assisting in budgets, and grants and contracts proposals.