SCI Publications
2020

C. Ly, C. Vachet, I. Schwerdt, E. Abbott, A. Brenkmann, L.W. McDonald, T. Tasdizen. "Determining uranium ore concentrates and their calcination products via image classification of multiple magnifications," In Journal of Nuclear Materials, 2020.
Many tools, such as mass spectrometry, X-ray diffraction, X-ray fluorescence, ion chromatography, etc., are currently available to scientists investigating interdicted nuclear material. These tools provide an analysis of physical, chemical, or isotopic characteristics of the seized material to identify its origin. In this study, a novel technique that characterizes physical attributes is proposed to provide insight into the processing route of unknown uranium ore concentrates (UOCs) and their calcination products. In particular, this study focuses on the characteristics of the surface structure captured in scanning electron microscopy (SEM) images at different magnification levels. Twelve common commercial processing routes of UOCs and their calcination products are investigated. Multiple-input single-output (MISO) convolution neural networks (CNNs) are implemented to differentiate the processing routes. The proposed technique can determine the processing route of a given sample in under a second running on a graphics processing unit (GPU) with an accuracy of more than 95%. The accuracy and speed of this proposed technique enable nuclear scientists to provide the preliminary identification results of interdicted material in a short time period. Furthermore, this proposed technique uses a predetermined set of magnifications, which in turn eliminates the human bias in selecting the magnification during the image acquisition process.
---
2019

A. B. Hanson, R. N. Lee, C. Vachet, I. J. Schwerdt, T. Tasdizen, L. W. McDonald IV. "Quantifying Impurity Effects on the Surface Morphology of α-U3O8," In Analytical Chemistry, 2019.
DOI: doi:10.1021/acs.analchem.9b02013
The morphological effect of impurities on α-U3O8 has been investigated. This study provides the first evidence that the presence of impurities can alter nuclear material morphology, and these changes can be quantified to aid in revealing processing history. Four elements: Ca, Mg, V, and Zr were implemented in the uranyl peroxide synthesis route and studied individually within the α-U3O8. Six total replicates were synthesized, and replicates 1–3 were filtered and washed with Millipore water (18.2 MΩ) to remove any residual nitrates. Replicates 4–6 were filtered but not washed to determine the amount of impurities removed during washing. Inductively coupled plasma mass spectrometry (ICP-MS) was employed at key points during the synthesis to quantify incorporation of the impurity. Each sample was characterized using powder X-ray diffraction (p-XRD), high-resolution scanning electron microscopy (HRSEM), and SEM with energy dispersive X-ray spectroscopy (SEM-EDS). p-XRD was utilized to evaluate any crystallographic changes due to the impurities; HRSEM imagery was analyzed with Morphological Analysis for MAterials (MAMA) software and machine learning classification for quantification of the morphology; and SEM-EDS was utilized to locate the impurity within the α-U3O8. All samples were found to be quantifiably distinguishable, further demonstrating the utility of quantitative morphology as a signature for the processing history of nuclear material.
---

S. T. Heffernan, N. Ly, B. J. Mower, C. Vachet, I. J. Schwerdt, T. Tasdizen, L. W. McDonald IV. "Identifying surface morphological characteristics to differentiate between mixtures of U3O8 synthesized from ammonium diuranate and uranyl peroxide," In Radiochimica Acta, 2019.
In the present study, surface morphological differences of mixtures of triuranium octoxide (U3O8), synthesized from uranyl peroxide (UO4) and ammonium diuranate (ADU), were investigated. The purity of each sample was verified using powder X-ray diffractometry (p-XRD), and scanning electron microscopy (SEM) images were collected to identify unique morphological features. The U3O8 from ADU and UO4 was found to be unique. Qualitatively, both particles have similar features being primarily circular in shape. Using the morphological analysis of materials (MAMA) software, particle shape and size were quantified. UO4 was found to produce U3O8 particles three times the area of those produced from ADU. With the starting morphologies quantified, U3O8 samples from ADU and UO4 were physically mixed in known quantities. SEM images were collected of the mixed samples, and the MAMA software was used to quantify particle attributes. As U3O8 particles from ADU were unique from UO4, the composition of the mixtures could be quantified using SEM imaging coupled with particle analysis. This provides a novel means of quantifying processing histories of mixtures of uranium oxides. Machine learning was also used to help further quantify characteristics in the image database through direct classification and particle segmentation using deep learning techniques based on Convolutional Neural Networks (CNN). It demonstrates that these techniques can distinguish the mixtures with high accuracy as well as showing significant differences in morphology between the mixtures. Results from this study demonstrate the power of quantitative morphological analysis for determining the processing history of nuclear materials.
---

R.B. Lanfredi, J.D. Schroeder, C. Vachet, T. Tasdizen. "Adversarial regression training for visualizing the progression of chronic obstructive pulmonary disease with chest x-rays," In Arxiv, In International Conference on Medical Image Computing and Computer-Assisted Intervention, 2019.
Knowledge of what spatial elements of medical images deep learning methods use as evidence is important for model interpretability, trustiness, and validation. There is a lack of such techniques for models in regression tasks. We propose a method, called visualization for regression with a generative adversarial network (VR-GAN), for formulating adversarial training specifically for datasets containing regression target values characterizing disease severity. We use a conditional generative adversarial network where the generator attempts to learn to shift the output of a regressor through creating disease effect maps that are added to the original images. Meanwhile, the regressor is trained to predict the original regression value for the modified images. A model trained with this technique learns to provide visualization for how the image would appear at different stages of the disease. We analyze our method in a dataset of chest x-rays associated with pulmonary function tests, used for diagnosing chronic obstructive pulmonary disease (COPD). For validation, we compute the difference of two registered x-rays of the same patient at different time points and correlate it to the generated disease effect map. The proposed method outperforms a technique based on classification and provides realistic-looking images, making modifications to images following what radiologists usually observe for this disease. Implementation code is available athttps://github.com/ricbl/vrgan.
---
2017

A. Vardhan, J. Fishbaugh, C. Vachet, G. Gerig. "Longitudinal Modeling of Multi-modal Image Contrast Reveals Patterns of Early Brain Growth," In Medical Image Computing and Computer Assisted Intervention - MICCAI 2017, Springer International Publishing, pp. 75--83. 2017.
DOI: 10.1007/978-3-319-66182-7_9
The brain undergoes rapid development during early childhood as a series of biophysical and chemical processes occur, which can be observed in magnetic resonance (MR) images as a change over time of white matter intensity relative to gray matter. Such a contrast change manifests in specific patterns in different imaging modalities, suggesting that brain maturation is encoded by appearance changes in multi-modal MRI. In this paper, we explore the patterns of early brain growth encoded by multi-modal contrast changes in a longitudinal study of children. For a given modality, contrast is measured by comparing histograms of intensity distributions between white and gray matter. Multivariate non-linear mixed effects (NLME) modeling provides subject-specific as well as population growth trajectories which accounts for contrast from multiple modalities. The multivariate NLME procedure and resulting non-linear contrast functions enable the study of maturation in various regions of interest. Our analysis of several brain regions in a study of 70 healthy children reveals a posterior to anterior pattern of timing of maturation in the major lobes of the cerebral cortex, with posterior regions maturing earlier than anterior regions. Furthermore, we find significant differences between maturation rates between males and females.
---

J. J. Wolff, M. R. Swanson, J. T. Elison, G. Gerig, J. R. Pruett, M. A. Styner, C. Vachet, K. N. Botteron, S. R. Dager, A. M. Estes, H. C. Hazlett, R. T. Schultz, M. D. Shen, L. Zwaigenbaum, J. Piven. "Neural circuitry at age 6~months associated with later repetitive behavior and sensory responsiveness in autism," In Molecular Autism, Vol. 8, No. 1, Springer Nature, March, 2017.
DOI: 10.1186/s13229-017-0126-z
Background
Restricted and repetitive behaviors are defining features of autism spectrum disorder (ASD). Under revised diagnostic criteria for ASD, this behavioral domain now includes atypical responses to sensory stimuli. To date, little is known about the neural circuitry underlying these features of ASD early in life.

Methods
Longitudinal diffusion tensor imaging data were collected from 217 infants at high familial risk for ASD. Forty-four of these infants were diagnosed with ASD at age 2. Targeted cortical, cerebellar, and striatal white matter pathways were defined and measured at ages 6, 12, and 24 months. Dependent variables included the Repetitive Behavior Scale-Revised and the Sensory Experiences Questionnaire.

Results
Among children diagnosed with ASD, repetitive behaviors and sensory response patterns were strongly correlated, even when accounting for developmental level or social impairment. Longitudinal analyses indicated that the genu and cerebellar pathways were significantly associated with both repetitive behaviors and sensory responsiveness but not social deficits. At age 6 months, fractional anisotropy in the genu significantly predicted repetitive behaviors and sensory responsiveness at age 2. Cerebellar pathways significantly predicted later sensory responsiveness. Exploratory analyses suggested a possible disordinal interaction based on diagnostic status for the association between fractional anisotropy and repetitive behavior.

Conclusions
Our findings suggest that restricted and repetitive behaviors contributing to a diagnosis of ASD at age 2 years are associated with structural properties of callosal and cerebellar white matter pathways measured during infancy and toddlerhood. We further identified that repetitive behaviors and unusual sensory response patterns co-occur and share common brain-behavior relationships. These results were strikingly specific given the absence of association between targeted pathways and social deficits.
---
2016

S. Elhabian, C. Vachet, J. Piven, M. Styner, G. Gerig. "Compressive sensing based Q-space resampling for handling fast bulk motion in hardi acquisitions," In 2016 IEEE 13th International Symposium on Biomedical Imaging (ISBI), IEEE, pp. 907--910. April, 2016.
DOI: 10.1109/isbi.2016.7493412
Diffusion-weighted (DW) MRI has become a widely adopted imaging modality to reveal the underlying brain connectivity. Long acquisition times and/or non-cooperative patients increase the chances of motion-related artifacts. Whereas slow bulk motion results in inter-gradient misalignment which can be handled via retrospective motion correction algorithms, fast bulk motion usually affects data during the application of a single diffusion gradient causing signal dropout artifacts. Common practices opt to discard gradients bearing signal attenuation due to the difficulty of their retrospective correction, with the disadvantage to lose full gradients for further processing. Nonetheless, such attenuation might only affect limited number of slices within a gradient volume. Q-space resampling has recently been proposed to recover corrupted slices while saving gradients for subsequent reconstruction. However, few corrupted gradients are implicitly assumed which might not hold in case of scanning unsedated infants or patients in pain. In this paper, we propose to adopt recent advances in compressive sensing based reconstruction of the diffusion orientation distribution functions (ODF) with under sampled measurements to resample corrupted slices. We make use of Simple Harmonic Oscillator based Reconstruction and Estimation (SHORE) basis functions which can analytically model ODF from arbitrary sampled signals. We demonstrate the impact of the proposed resampling strategy compared to state-of-art resampling and gradient exclusion on simulated intra-gradient motion as well as samples from real DWI data.
---

S. Kim, I.Lyu, V. Fonov, C. Vachet, H. Hazlett, R. Smith, J. Piven, S. Dager, R. Mckinstry, J. Pruett, A. Evans, D. Collins, K. Botteron, R. Schultz, G. Gerig, M. Styner. "Development of Cortical Shape in the Human Brain from 6 to 24 Months of Age via a Novel Measure of Shape Complexity," In NeuroImage, Vol. 135, Elsevier, pp. 163--176. July, 2016.
DOI: 10.1016/j.neuroimage.2016.04.053
The quantification of local surface morphology in the human cortex is important for examining population differences as well as developmental changes in neurodegenerative or neurodevelopmental disorders. We propose a novel cortical shape measure, referred to as the 'shape complexity index' (SCI), that represents localized shape complexity as the difference between the observed distributions of local surface topology, as quantified by the shape index (SI) measure, to its best fitting simple topological model within a given neighborhood. We apply a relatively small, adaptive geodesic kernel to calculate the SCI. Due to the small size of the kernel, the proposed SCI measure captures fine differences of cortical shape. With this novel cortical feature, we aim to capture comparatively small local surface changes that capture a) the widening versus deepening of sulcal and gyral regions, as well as b) the emergence and development of secondary and tertiary sulci. Current cortical shape measures, such as the gyrification index (GI) or intrinsic curvature measures, investigate the cortical surface at a different scale and are less well suited to capture these particular cortical surface changes. In our experiments, the proposed SCI demonstrates higher complexity in the gyral/sulcal wall regions, lower complexity in wider gyral ridges and lowest complexity in wider sulcal fundus regions. In early postnatal brain development, our experiments show that SCI reveals a pattern of increased cortical shape complexity with age, as well as sexual dimorphisms in the insula, middle cingulate, parieto-occipital sulcal and Broca's regions. Overall, sex differences were greatest at 6months of age and were reduced at 24months, with the difference pattern switching from higher complexity in males at 6months to higher complexity in females at 24months. This is the first study of longitudinal, cortical complexity maturation and sex differences, in the early postnatal period from 6 to 24months of age with fine scale, cortical shape measures. These results provide information that complement previous studies of gyrification index in early brain development.
---
2015

C.C. Conlin, J.L. Zhang, F. Rousset, C. Vachet, Y. Zhao, K.A. Morton, K. Carlston, G. Gerig, V.S. Lee. "Performance of an Efficient Image-registration Algorithm in Processing MR Renography Data," In J Magnetic Resonance Imaging, July, 2015.
DOI: 10.1002/jmri.25000
PURPOSE:
To evaluate the performance of an edge-based registration technique in correcting for respiratory motion artifacts in magnetic resonance renographic (MRR) data and to examine the efficiency of a semiautomatic software package in processing renographic data from a cohort of clinical patients.

MATERIALS AND METHODS:
The developed software incorporates an image-registration algorithm based on the generalized Hough transform of edge maps. It was used to estimate glomerular filtration rate (GFR), renal plasma flow (RPF), and mean transit time (MTT) from 36 patients who underwent free-breathing MRR at 3T using saturation-recovery turbo-FLASH. The processing time required for each patient was recorded. Renal parameter estimates and model-fitting residues from the software were compared to those from a previously reported technique. Interreader variability in the software was quantified by the standard deviation of parameter estimates among three readers. GFR estimates from our software were also compared to a reference standard from nuclear medicine.

RESULTS:
The time taken to process one patient's data with the software averaged 12 ± 4 minutes. The applied image registration effectively reduced motion artifacts in dynamic images by providing renal tracer-retention curves with significantly smaller fitting residues (P < 0.01) than unregistered data or data registered by the previously reported technique. Interreader variability was less than 10% for all parameters. GFR estimates from the proposed method showed greater concordance with reference values (P < 0.05).

CONCLUSION:
These results suggest that the proposed software can process MRR data efficiently and accurately. Its incorporated registration technique based on the generalized Hough transform effectively reduces respiratory motion artifacts in free-breathing renographic acquisitions. J. Magn. Reson. Imaging 2015.
---

I. OguzI, J. Cates, M. Datar, B. Paniagua, T. Fletcher, C. Vachet, M. Styner, R. Whitaker. "Entropy-based particle correspondence for shape populations," In International Journal of Computer Assisted Radiology and Surgery, Springer, pp. 1-12. December, 2015.
Purpose
Statistical shape analysis of anatomical structures plays an important role in many medical image analysis applications such as understanding the structural changes in anatomy in various stages of growth or disease. Establishing accurate correspondence across object populations is essential for such statistical shape analysis studies.

Methods
In this paper, we present an entropy-based correspondence framework for computing point-based correspondence among populations of surfaces in a groupwise manner. This robust framework is parameterization-free and computationally efficient. We review the core principles of this method as well as various extensions to deal effectively with surfaces of complex geometry and application-driven correspondence metrics.

Results
We apply our method to synthetic and biological datasets to illustrate the concepts proposed and compare the performance of our framework to existing techniques.

Conclusions
Through the numerous extensions and variations presented here, we create a very flexible framework that can effectively handle objects of various topologies, multi-object complexes, open surfaces, and objects of complex geometry such as high-curvature regions or extremely thin features.
---

A. P. Salzwedel, K. M. Grewen, C. Vachet, G. Gerig, W. Lin,, W. Gao. "Prenatal Drug Exposure Affects Neonatal Brain Functional Connectivity," In The Journal of Neuroscience, Vol. 35, No. 14, pp. 5860-5869. April, 2015.
DOI: 10.1523/JNEUROSCI.4333-14.2015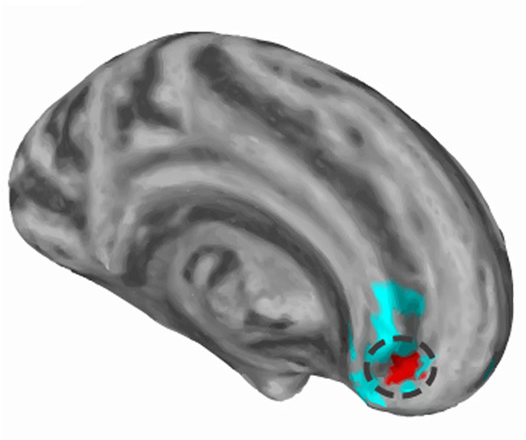 Prenatal drug exposure, particularly prenatal cocaine exposure (PCE), incurs great public and scientific interest because of its associated neurodevelopmental consequences. However, the neural underpinnings of PCE remain essentially uncharted, and existing studies in school-aged children and adolescents are confounded greatly by postnatal environmental factors. In this study, leveraging a large neonate sample (N = 152) and non-invasive resting-state functional magnetic resonance imaging, we compared human infants with PCE comorbid with other drugs (such as nicotine, alcohol, marijuana, and antidepressant) with infants with similar non-cocaine poly drug exposure and drug-free controls. We aimed to characterize the neural correlates of PCE based on functional connectivity measurements of the amygdala and insula at the earliest stage of development. Our results revealed common drug exposure-related connectivity disruptions within the amygdala–frontal, insula–frontal, and insula–sensorimotor circuits. Moreover, a cocaine-specific effect was detected within a subregion of the amygdala–frontal network. This pathway is thought to play an important role in arousal regulation, which has been shown to be irregular in PCE infants and adolescents. These novel results provide the earliest human-based functional delineations of the neural-developmental consequences of prenatal drug exposure and thus open a new window for the advancement of effective strategies aimed at early risk identification and intervention.
---

M. R. Swanson, J. J. Wolff, J. T. Elison, H. Gu, H. C. Hazlett, K. Botteron, M. Styner, S. Paterson, G. Gerig, J. Constantino, S. Dager, A. Estes, C. Vachet, J. Piven. "Splenium development and early spoken language in human infants," In Developmental Science, Wiley Online Library, 2015.
ISSN: 1467-7687
DOI: 10.1111/desc.12360
The association between developmental trajectories of language-related white matter fiber pathways from 6 to 24 months of age and individual differences in language production at 24 months of age was investigated. The splenium of the corpus callosum, a fiber pathway projecting through the posterior hub of the default mode network to occipital visual areas, was examined as well as pathways implicated in language function in the mature brain, including the arcuate fasciculi, uncinate fasciculi, and inferior longitudinal fasciculi. The hypothesis that the development of neural circuitry supporting domain-general orienting skills would relate to later language performance was tested in a large sample of typically developing infants. The present study included 77 infants with diffusion weighted MRI scans at 6, 12 and 24 months and language assessment at 24 months. The rate of change in splenium development varied significantly as a function of language production, such that children with greater change in fractional anisotropy (FA) from 6 to 24 months produced more words at 24 months. Contrary to findings from older children and adults, significant associations between language production and FA in the arcuate, uncinate, or left inferior longitudinal fasciculi were not observed. The current study highlights the importance of tracing brain development trajectories from infancy to fully elucidate emerging brain–behavior associations while also emphasizing the role of the splenium as a key node in the structural network that supports the acquisition of spoken language.
---

J. J. Wolff, G. Gerig, J. D. Lewis, T. Soda, M. A. Styner, C. Vachet, K. N. Botteron, J. T. Elison, S. R. Dager, A. M. Estes, H. C. Hazlett, R. T. Schultz, L. Zwaigenbaum, J. Piven. "Altered corpus callosum morphology associated with autism over the first 2 years of life," In Brain, 2015.
DOI: 10.1093/brain/awv118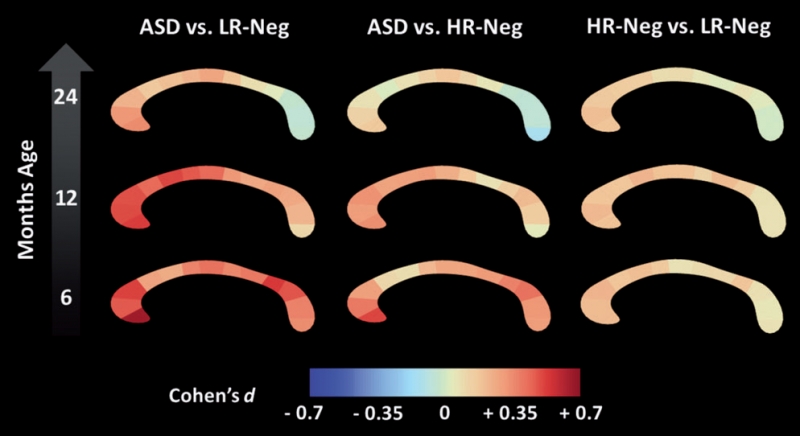 Numerous brain imaging studies indicate that the corpus callosum is smaller in older children and adults with autism spectrum disorder. However, there are no published studies examining the morphological development of this connective pathway in infants at-risk for the disorder. Magnetic resonance imaging data were collected from 270 infants at high familial risk for autism spectrum disorder and 108 low-risk controls at 6, 12 and 24 months of age, with 83% of infants contributing two or more data points. Fifty-seven children met criteria for ASD based on clinical-best estimate diagnosis at age 2 years. Corpora callosa were measured for area, length and thickness by automated segmentation. We found significantly increased corpus callosum area and thickness in children with autism spectrum disorder starting at 6 months of age. These differences were particularly robust in the anterior corpus callosum at the 6 and 12 month time points. Regression analysis indicated that radial diffusivity in this region, measured by diffusion tensor imaging, inversely predicted thickness. Measures of area and thickness in the first year of life were correlated with repetitive behaviours at age 2 years. In contrast to work from older children and adults, our findings suggest that the corpus callosum may be larger in infants who go on to develop autism spectrum disorder. This result was apparent with or without adjustment for total brain volume. Although we did not see a significant interaction between group and age, cross-sectional data indicated that area and thickness differences diminish by age 2 years. Regression data incorporating diffusion tensor imaging suggest that microstructural properties of callosal white matter, which includes myelination and axon composition, may explain group differences in morphology.
---
2014

S. Elhabian, Y. Gur, C. Vachet, J. Piven, M. Styner, I. Leppert, G.B. Pike, G. Gerig. "A Preliminary Study on the Effect of Motion Correction On HARDI Reconstruction," In Proceedings of the 2014 IEEE International Symposium on Biomedical Imaging (ISBI), pp. (accepted). 2014.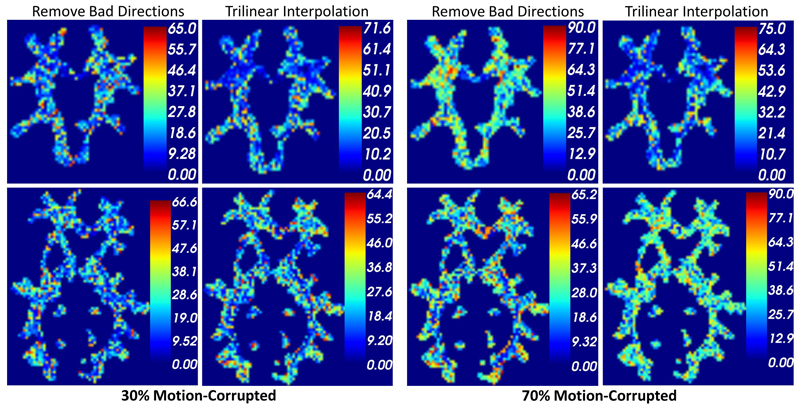 Post-acquisition motion correction is widely performed in diffusionweighted imaging (DWI) to guarantee voxel-wise correspondence between DWIs. Whereas this is primarily motivated to save as many scans as possible if corrupted by motion, users do not fully understand the consequences of different types of interpolation schemes on the final analysis. Nonetheless, interpolation might increase the partial volume effect while not preserving the volume of the diffusion profile, whereas excluding poor DWIs may affect the ability to resolve crossing fibers especially with small separation angles. In this paper, we investigate the effect of interpolating diffusion measurements as well as the elimination of bad directions on the reconstructed fiber orientation diffusion functions and on the estimated fiber orientations. We demonstrate such an effect on synthetic and real HARDI datasets. Our experiments demonstrate that the effect of interpolation is more significant with small fibers separation angles where the exclusion of motion-corrupted directions decreases the ability to resolve such crossing fibers.
Keywords: Diffusion MRI, HARDI, motion correction, interpolation
---

S.Y. Elhabian, Y. Gur, C. Vachet, J. Piven, M.A. Styner, I.R. Leppert, B. Pike, G. Gerig. "Subject-Motion Correction in HARDI Acquisitions: Choices and Consequences," In Frontiers in Neurology - Brain Imaging Methods, 2014.
DOI: 10.3389/fneur.2014.00240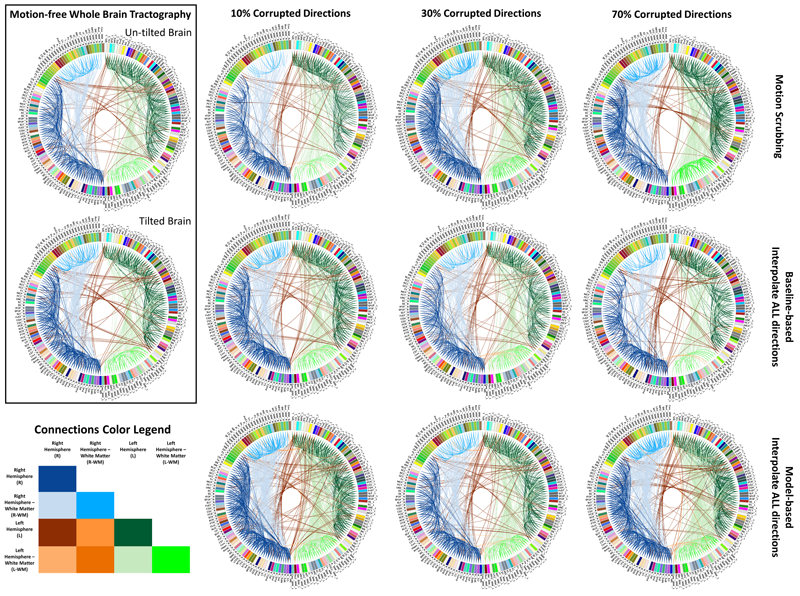 Diffusion-weighted imaging (DWI) is known to be prone to artifacts related to motion originating from subject movement, cardiac pulsation and breathing, but also to mechanical issues such as table vibrations. Given the necessity for rigorous quality control and motion correction, users are often left to use simple heuristics to select correction schemes, which involves simple qualitative viewing of the set of DWI data, or the selection of transformation parameter thresholds for detection of motion outliers. The scientific community offers strong theoretical and experimental work on noise reduction and orientation distribution function (ODF) reconstruction techniques for HARDI data, where postacquisition motion correction is widely performed, e.g., using the open-source DTIprep software (Oguz et al., 2014), FSL (the FMRIB Software Library) (Jenkinson et al., 2012) or TORTOISE ( Pierpaoli et al. , 2010). Nonetheless, effects and consequences of the selection of motion correction schemes on the final analysis, and the eventual risk of introducing confounding factors when comparing populations, are much less known and far beyond simple intuitive guessing. Hence, standard users lack clear guidelines and recommendations in practical settings. This paper reports a comprehensive evaluation framework to systematically assess the outcome of different motion correction choices commonly used by the scientific community on different DWI-derived measures. We make use of human brain HARDI data from a well-controlled motion experiment to simulate various degrees of motion corruption and noise contamination. Choices for correction include exclusion/scrubbing or registration of motion corrupted directions with different choices of interpolation, as well as the option of interpolation of all directions. The comparative evaluation is based on a study of the impact of motion correction using four metrics that quantify (1) similarity of fiber orientation distribution functions (fODFs), (2) deviation of local fiber orientations, (3) global brain connectivity via Graph Diffusion Distance (GDD) and (4) the reproducibility of prominent and anatomically defined fiber tracts. Effects of various motion correction choices are systematically explored and illustrated, leading to a general conclusion of discouraging users from setting ad-hoc thresholds on the estimated motion parameters beyond which volumes are claimed to be corrupted.
---

K. Grewen, M. Burchinal, C. Vachet, S. Gouttard, J.H. Gilmore, W. Lin, J. Johns, M. Elam, G. Gerig. "Prenatal cocaine effects on brain structure in early infancy," In NeuroImage, Vol. 101, pp. 114--123. November, 2014.
DOI: 10.1016/j.neuroimage.2014.06.070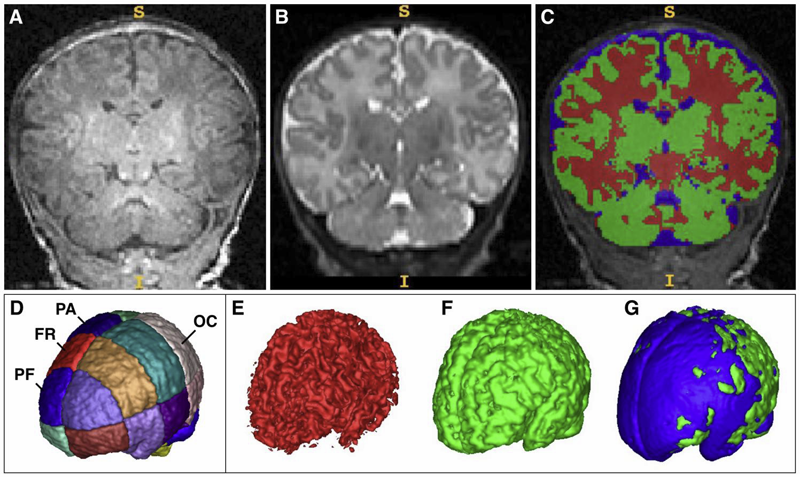 Prenatal cocaine exposure (PCE) is related to subtle deficits in cognitive and behavioral function in infancy, childhood and adolescence. Very little is known about the effects of
in utero
PCE on early brain development that may contribute to these impairments. The purpose of this study was to examine brain structural differences in infants with and without PCE. We conducted MRI scans of newborns (mean age = 5 weeks) to determine cocaine's impact on early brain structural development. Subjects were three groups of infants: 33 with PCE co-morbid with other drugs, 46 drug-free controls and 40 with prenatal exposure to other drugs (nicotine, alcohol, marijuana, opiates, SSRIs) but without cocaine. Infants with PCE exhibited lesser total gray matter (GM) volume and greater total cerebral spinal fluid (CSF) volume compared with controls and infants with non-cocaine drug exposure. Analysis of regional volumes revealed that whole brain GM differences were driven primarily by lesser GM in prefrontal and frontal brain regions in infants with PCE, while more posterior regions (parietal, occipital) did not differ across groups. Greater CSF volumes in PCE infants were present in prefrontal, frontal and parietal but not occipital regions. Greatest differences (GM reduction, CSF enlargement) in PCE infants were observed in dorsal prefrontal cortex. Results suggest that PCE is associated with structural deficits in neonatal cortical gray matter, specifically in prefrontal and frontal regions involved in executive function and inhibitory control. Longitudinal study is required to determine whether these early differences persist and contribute to deficits in cognitive functions and enhanced risk for drug abuse seen at school age and in later life.
---

F. Rousset, C. Vachet, C. Conlin, M. Heilbrun, J.L. Zhang, V.S. Lee, G. Gerig. "Semi-automated application for kidney motion correction and filtration analysis in MR renography," In Proceeding of the 2014 Joint Annual Meeting ISMRM-ESMRMB, pp. (accepted). 2014.
Altered renal function commonly affects patients with cirrhosis, a consequence of chronic liver disease. From lowdose contrast material-enhanced magnetic resonance (MR) renography, we can estimate the Glomerular Filtration Rate (GFR), an important parameter to assess renal function. Two-dimensional MR images are acquired every 2 seconds for approximately 5 minutes during free breathing, which results in a dynamic series of 140 images representing kidney filtration over time. This specific acquisition presents dynamic contrast changes but is also challenged by organ motion due to breathing. Rather than use conventional image registration techniques, we opted for an alternative method based on object detection. We developed a novel analysis framework available under a stand-alone toolkit to efficiently register dynamic kidney series, manually select regions of interest, visualize the concentration curves for these ROIs, and fit them into a model to obtain GFR values. This open-source cross-platform application is written in C++, using the Insight Segmentation and Registration Toolkit (ITK) library, and QT4 as a graphical user interface.
---

C. Vachet, H.C. Hazlett, J. Piven, G. Gerig. "4D Modeling of Infant Brain Growth in Down's Syndrome and Controls from longitudinal MRI," In Proceeding of the 2014 Joint Annual Meeting ISMRM-ESMRMB, pp. (accepted). 2014.
Modeling of early brain growth trajectories from longitudinal MRI will provide new insight into neurodevelopmental characteristics, timing and type of changes in neurological disorders from controls. In addition to an ongoing large-scale infant autism neuroimaging study 1, we recruited 4 infants with Down's syndrome (DS) in order to evaluate newly developed methods for 4D segmentation from longitudinal infant MRI, and for temporal modeling of brain growth trajectories. Specifically to Down's, a comparison of patterns of full brain and lobar tissue growth may lead to better insight into the observed variability of cognitive development and neurological effects, and may help with development of disease-modifying therapeutic intervention.
---

A. Vardhan, M. Prastawa, C. Vachet, J. Piven, G. Gerig. "Characterizing growth patterns in longitudinal MRI using image contrast," In Proceedings of Medical Imaging 2014: Image Processing, 2014.

Understanding the growth patterns of the early brain is crucial to the study of neuro-development. In the early stages of brain growth, a rapid sequence of biophysical and chemical processes take place. A crucial component of these processes, known as myelination, consists of the formation of a myelin sheath around a nerve fiber, enabling the effective transmission of neural impulses. As the brain undergoes myelination, there is a subsequent change in the contrast between gray matter and white matter as observed in MR scans. In this work, graywhite matter contrast is proposed as an effective measure of appearance which is relatively invariant to location, scanner type, and scanning conditions. To validate this, contrast is computed over various cortical regions for an adult human phantom. MR (Magnetic Resonance) images of the phantom were repeatedly generated using different scanners, and at different locations. Contrast displays less variability over changing conditions of scan compared to intensity-based measures, demonstrating that it is less dependent than intensity on external factors. Additionally, contrast is used to analyze longitudinal MR scans of the early brain, belonging to healthy controls and Down's Syndrome (DS) patients. Kernel regression is used to model subject-specific trajectories of contrast changing with time. Trajectories of contrast changing with time, as well as time-based biomarkers extracted from contrast modeling, show large differences between groups. The preliminary applications of contrast based analysis indicate its future potential to reveal new information not covered by conventional volumetric or deformation-based analysis, particularly for distinguishing between normal and abnormal growth patterns.
---

A. Vardhan, N. Sadeghi, C. Vachet, J. Piven, G. Gerig. "Joint Longitudinal Modeling of Brain Appearance in Multimodal MRI for the Characterization of Early Brain Developmental Processes," In Spatiotemporal Image Analysis for Longitudinal and Time-Series Image Data (STIA'14) , LNCS. MICCAI'14, Springer Verlag, June, 2014.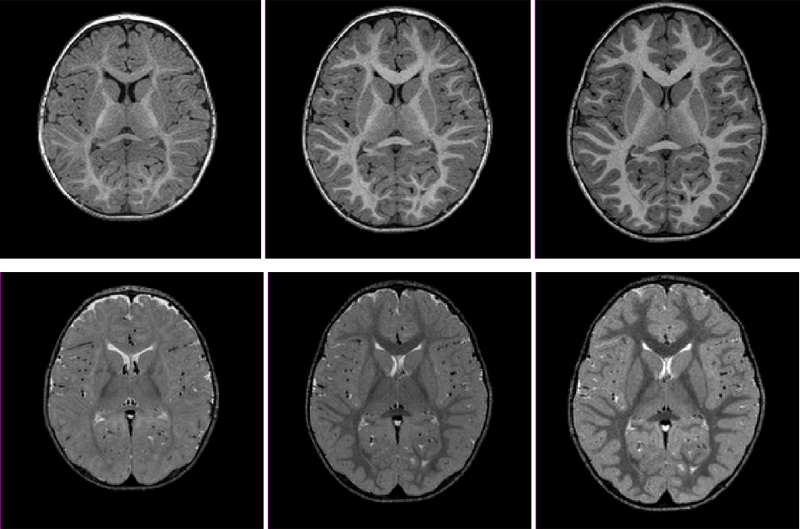 Early brain maturational processes such as myelination manifest as changes in the relative appearance of white-gray matter tissue classes in MR images. Imaging modalities such as T1W (T1-Weighted) and T2W (T2-Weighted) MRI each display specific patterns of appearance change associated with distinct neurobiological components of these maturational processes. In this paper we present a framework to jointly model multimodal appearance changes across time for a longitudinal imaging dataset, resulting in quantitative assessment of the patterns of early brain maturation not yet available to clinicians. We measure appearance by quantifying contrast between white and gray matter in terms of the distance between their intensity distributions, a method demonstrated to be relatively stable to interscan variability. A multivariate nonlinear mixed effects (NLME) model is used for joint statistical modeling of this contrast measure across multiple imaging modalities. The multivariate NLME procedure considers correlations between modalities in addition to intra-modal variability. The parameters of the logistic growth function used in NLME modeling provide useful quantitative information about the timing and progression of contrast change in multimodal datasets. Inverted patterns of relative white-gray matter intensity gradient that are observable in T1W scans with respect to T2W scans are characterized by the SIR (Signal Intensity Ratio). The CONTDIR (Contrast Direction) which measures the direction of the gradient at each time point relative to that in the adult-like scan adds a directional attribute to contrast. The major contribution of this paper is a framework for joint multimodal temporal modeling of white-gray matter MRI contrast change and estimation of subject-specific and population growth trajectories. Results confirm qualitative descriptions of growth patterns in pediatric radiology studies and our new quantitative modeling scheme has the potential to advance understanding of variability of brain tissue maturation and to eventually differentiate normal from abnormal growth for early diagnosis of pathology.
---