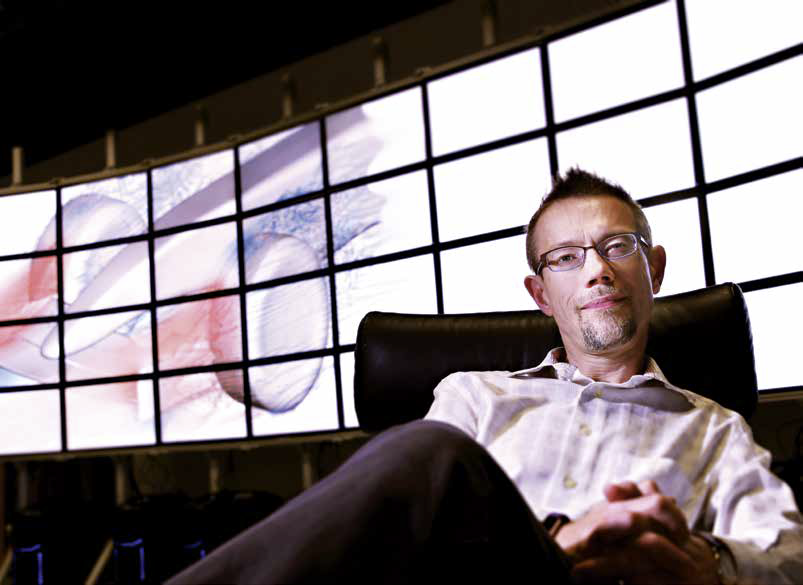 Whether it's coming up with the best design for a Formula 1 race car or understanding the effects of atrial fibrillation on the heart, developing the right simulation model for research sometimes involves equal parts applied math, engineering and computer science.
University of Utah School of Computing professor Mike Kirby sees himself as the person who connects these disciplines so he can take trailblazing ideas and help create better simulation software to aid researchers.
"They're the pathfinders," he said of the engineers he works with every day, "and I'm right behind them building the bridges that connect them with good computational tools and rigorous applied math."
In order to help scientists build the right simulation tools for their work, Kirby, along with research partner, Imperial College London computational fluid mechanics professor Spencer Sherwin, has created an open-source software package called Nektar++ that enables engineers and industry professionals to create better simulation models for aerodynamic to biomedical applications.
Kirby is currently working with the U.S. Army, for example, to help engineers simulate the effects of "vortex structures," the swirling clouds you sometimes see behind the tip of an aircraft wing. In the case of helicopters, the giant rotor creates these vortices that move downward, which can weaken the aircraft body. Army engineers want to know how that continual "shock" might ultimately affect the body over time, so Kirby and his team are using Nektar++ to recreate air flow along a wing similar to a helicopter rotor and then providing the software code to Army engineers who can use it in their own simulations.
"The end goal is to have computational tools that allow designers to do what-if experiments," said Kirby, who is also the associate director for the University of Utah's School of Computing. This can help engineers understand what design changes need to be made so helicopter bodies can be more robust or so Army officials can implement new policies to better protect the aircraft.
Nektar++ is also being explored by car manufacturer McLaren Automotive for designing better Formula 1 race cars that produce less air drag and can hug the track better. The front wings of the famous car type are designed to create downforce to prevent it from flying up. The wings also can create those same vortex structures so the swirling air can create downforce when they strike the rear wheels.
For decades, McLaren has been using in-house proprietary simulation software to study air flow around their race cars. They now are exploring Kirby's software and his partner's expertise to make better simulation models for future car designs.
"They acknowledge that they are starting to reach the limits of their current in-house computational tools, and they're exploring higher-fidelity tools, one of which is ours," Kirby said.
The software also is being used by medical researchers to better understand what happens to the heart when it goes into atrial fibrillation (an irregular heartbeat). In addition, a UK manufacturer which produces jet engines for aviation is turning to Nektar++ to help its engineers design the next generation of turbines. Both Kirby and Sherwin have expressed interest in starting a new consulting firm that would work with companies who want to use Nektar++.
With Kirby's educational background — dual master's degrees in applied mathematics and computer science and a doctorate in applied mathematics at Brown University — he turned out to be the perfect bridge builder that ties those disciplines to engineering. At the U, he became a faculty member of the university's Scientific Computing and Imaging Institute in addition to the associate director of the School of Computing, and he is an adjunct professor in both bioengineering and mathematics. He was also named one of 2016's Funded Research Honorees for the university.
"The university wanted me to be the best I can be here, and they weren't going to try and put me in a box," he said. "This has been a great university to be at."
Article as it appears in the College of Engineering Alumni Research News

.