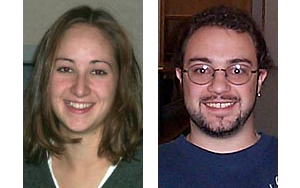 Two SCIers,
Darby Brown
and
Jesse Hall
, were given a rare opportunity to showcase their work before the Utah State Legislature on January 18th. In conjunction with a University wide effort to show the benefits of undergraduate studies within a research institution, Darby and Jesse, both undergraduate members of the Scientific Computing and Imaging Institute, along with thirteen other students, made a poster presentation before the newly elected legislature.
"This is a great opportunity for both students and University alike," says Ronald J.Pugmire. Associate Vice President for Research. "Not only are we given the opportunity to show off our undergraduate programs, but the students are given both the chance to represent their research to their elected officials as well as an early glimpse into the collaboration of education and government."
Darby, a member of the Engineering Scholars Program, presented her work on bioelectric source localization and cortical mapping within the SCIRun problem solving environment. Jesse presented his work on parallel hardware volume rendering.